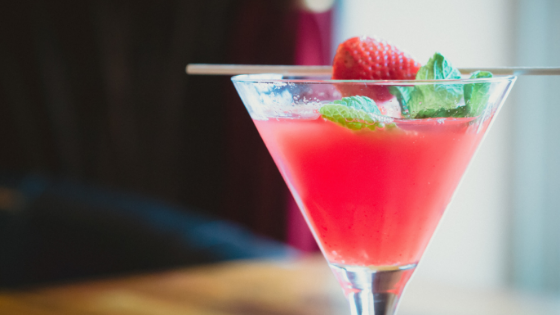 There are many specialty cocktails that work perfectly with springtime vibes this season! See below for a list of some amazing cocktails to make during spring:
Ginger Sage Cocktail
Ingredients:
1 bottle of Santa Margherita Prosecco
2 tbsp simple syrup
1 cup of honey
3 cups of water
2 whole pears, peeled, cored and diced
1 large piece of ginger, peeled and diced
20 fresh sage leaves
Directions:
Heat honey and water over medium heat in a saucepan till you get a light boil. Turn the heat down low and stir occasionally until the honey has dissolved. Add the pears, sage leaves, and honey, then simmer for 15 to 20 minutes. Remove the mixture from heat and let steep for 10 minutes. Strain the syrup into a thick bowl. Get rid of the ginger and sage leaves. Add a few pieces of cooked pear into each wine glass, followed by the syrup. Add the Prosecco and serve with some sage leaves.
Bourbini
Ingredients:
1 oz. Heaven Hill 6-year bourbon
2 dashes peach bitters
.5 oz. Mathilde Peche peach liqueur
Sparkling wine
Directions:
Combine bourbon, bitters, liquor, and ice, then shake ingredients together. Strain mixture into a glass and top with sparkling wine. Garnish with mint sprig.
GM-P Collins
Ingredients:
2 oz Ford's Gin
.75 oz fennel syrup
.75 oz lemon juice
1 dash Scrappy's celery bitters
2 dashes of Peychaud bitters
Pinch of salt
Soda
Directions:
Combine gin, lemon, fennel syrup, celery bitters, salt, and ice, then shake ingredients together. Strain mixture into a Collins glass, add soda and top with two dashes of Peychaud bitters on the top cube. Garnish with a fennel frond.
Raspberry Lemon & Lime Ginger Beer Cocktail
Ingredients:
.75 oz raspberry puree
1.5 oz of Brooklyn Crafted ginger beer, lemon, and lime
Splash of limoncello
4 oz champagne
A squeeze of lime juice
Fresh raspberries
Directions:
Combine raspberry puree, limoncello, and ginger beer into a champagne glass and stir. Top with some champagne and lime juice. Garnish with fresh raspberries.
Concrete Junglebird
Ingredients:
.25 oz demerara
.5 oz lime juice
.75 oz Campari
1.5 oz caramelized pineapple concentrate
.75 oz Appleton Reserve Jamaican Rum
.75 oz chai infused Jameson Black Barrel
Directions:
Add all ingredients together and add to a mixer with ice. Shake very well and strain into a double rocks glass. Garnish with a pineapple leaf.
Sip and Enjoy the Season!
From a sweet refreshment to something more bitter, these drinks are ideal for any springtime gathering in your apartment or home. To find beautiful apartments in Mountlake Terrace, be sure to contact Taluswood apartments today to make an appointment!